Seat Ibiza ( Navi System Plus )
In order to update your GPS device: Seat Ibiza ( Navi System Plus ) with the latest update, follow next instructions.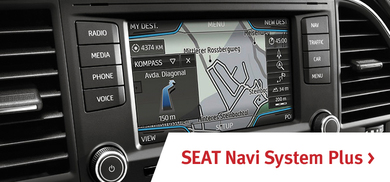 First of all, be sure you got the update file for your Seat Ibiza ( Navi System Plus ) device, downloaded from SpeedcamUpdates.com.
If still haven't got it, you can get it now filling the form you see on this page.
Extract files from the SpeedcamUpdates zip package. If the file you have downloaded is not a ZIP file means the file is already decompressed, and you can continue with the next step of this installation instructions.
Select the "NAV" tab
Insert the SD card containing the downloaded and unzipped data in slot 2 of the GPS Device
Select "Setup"
Select "Manage Memory"
Select "Update my POI"
When "Software Update Available" is shown on the screen, you have to select Update and Next
When import procedure has finished then return to NAV
Select "Map"
Select "Show POI"
Select "Show Categories"
Scroll down till I see Speedcameras and tick them (mark with ?V?-sign).
The cameras will be shown on the map. When you approach to the camera a weak warning sound is played. This could happen or not depending on the models.

For your information
If you get an error message when you're updating your device, follow next steps. Insert the SD card into your computer again. Copy the file named 'metainfo2.txt" contained in PersonalPOI/MIB2HIGH folder into the root of SD card replacing the meta2info.txt file that should be already there. Also copy completely the folder PersonalPOI into the root folder replacing the PersonalPOI folder already there. Extract the SD card from your computer and insert it into your GPS device again. Repeat the installation procedure.
CUSTOMER COMMENTS
Kylian Boyer
- 2019-07-20
My car GPS was stuck at 50%, but I did login into the control panel and I customized my own database which solved the issue. Thanks for the support.
Gabin Renaud
- 2019-07-20
Julia Muller
- 2019-07-19
Very updated information.