Opel MediaNav - EVO2 ( Android Auto )
In order to update your GPS device: Opel MediaNav - EVO2 ( Android Auto ) with the latest update, follow next instructions.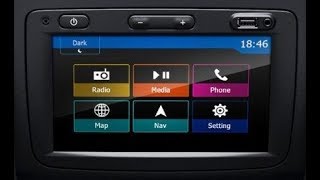 First of all, be sure you got the update file for your Opel MediaNav - EVO2 ( Android Auto ) device, downloaded from SpeedcamUpdates.com.
If still haven't got it, you can get it now filling the form you see on this page.
Extract files from the SpeedcamUpdates zip package. If the file you have downloaded is not a ZIP file means the file is already decompressed, and you can continue with the next step of this installation instructions.
Using an USB stick formatted in FAT32 copy all the files you extracted in the step before.
Start your engine to power up your MediaNav device.
Plug your usb stick into your MediaNav device.
A popup message saying there is no media inserted will appear. Just ignore it.
Wait around 30 seconds. If your USB stick has any led light, wait until this one stops blinking.
Unplug your usb stick from your MediaNav device.
Power off your MediaNav device by pressing Power button during 5 seconds.
With your MediaNav device off, wait for 30 seconds.
It will take some time to boot up. When you see the main menu, touch the NAV button.
Navigator will take around 2 minutes to boot up. The bottom button will be grey, and you won't be able to touch it. Just wait.
Once you get access again to the navigator, you can continue with the instructions to enable categories to be shown in the map.

For your information
In order to see the SpeedcamUpdates icons on the map follow the next instructions. Valid for MediaNav devices MN1,MN2 and MN3.

Once you are in the map. Touch the boton named as Destination => Options => Warnings
Enable alert pois.
For your information
Remember you can customize freely your download. Get access to the customer control panel and using the customization tool in order to get a customized speedcam database according to your needs. You will need this tool if your device doesn't accept the size of the new update. You can add and remove countries speedcam data to your current setup.
CUSTOMER COMMENTS
Mathis Fontaine
- 2023-12-07
Amazing update. Automatic delivery
Alicia Perez
- 2023-12-07
Only service with mobile data updated. Thank you!!!
Yanis Bernard
- 2023-12-06
Amazing control panel to manage my databases and subscriptions