Dacia MediaNav - Evolution 2 (MN2)
In order to update your GPS device: Dacia MediaNav - Evolution 2 (MN2) with the latest update, follow next instructions.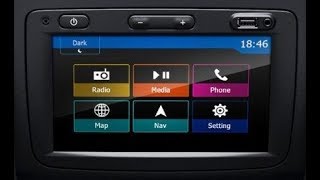 First of all, be sure you got the update file for your Dacia MediaNav - Evolution 2 (MN2) device, downloaded from SpeedcamUpdates.com.
If still haven't got it, you can get it now filling the form you see on this page.
Extract files from the SpeedcamUpdates zip package. If the file you have downloaded is not a ZIP file means the file is already decompressed, and you can continue with the next step of this installation instructions.
Using an USB stick formatted in FAT32 copy all the files you extracted in the step before.
Start your car and quickly plug in the USB stick into your Dacia MediaNav - Evolution 2 (MN2) device. Do this before your Dacia MediaNav - Evolution 2 (MN2) device is turned on.
A popup message saying there is no media inserted will appear. Just ignore it.
After few seconds a new message will appear saying: Installation is complete. You can remove the USB stick.
Turn on your Dacia MediaNav - Evolution 2 (MN2) device again. Select Destination. Select Options. Select Map Settings. Select Map Icons.
Set "SpeedcamUpdates" option to ON in order to show the speed camera icons on the map.
Using arrows keys, go back to the "Warnings" menu item, and activate "Alert Points". Since now you will receive an audio warning when approaching to the speed camera. Speed camera will be shown on the map too.

For your information
In order to see the SpeedcamUpdates icons on the map follow the next instructions. Valid for MediaNav devices MN1,MN2 and MN3.

Once you are in the map. Touch the boton named as Destination
Select Map POIS settings
Now select the right arrow in the option: special target icon
Look for the SpeedcamUpdates category icon and enable it to allow to be shown on the map.
For your information
Remember you can customize freely your download. Get access to the customer control panel and using the customization tool in order to get a customized speedcam database according to your needs. You will need this tool if your device doesn't accept the size of the new update. You can add and remove countries speedcam data to your current setup.
CUSTOMER COMMENTS
Théo Mathieu
- 2023-03-30
Very updated information.
Romain Perrin
- 2023-03-30