LG N800
In order to update your GPS device: LG N800 with the latest update, follow next instructions.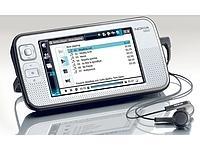 First of all, be sure you got the update file for your LG N800 device, downloaded from SpeedcamUpdates.com.
If still haven't got it, you can get it now filling the form you see on this page.
Extract files from the SpeedcamUpdates zip package. If the file you have downloaded is not a ZIP file means the file is already decompressed, and you can continue with the next step of this installation instructions.
Once files have been extracted, switch on your LG N800 device. Connect your LG N800 device using an USB cable to a PC. Your PC will detect the new device as an external storage drive.
Open the folder "./LGE/LGENavi/UserData/Favorites" in your LG N800 device and delete all files containing "Safety Camera" in the file name.
Run the LGE PC Portal software in your PC. Go to Import Favorites in the main screen.
In the folder where you extracted the zip file before, select all files with csv extension and then click Open.
Click Import for transfering all files into your LG N800 device. Then you can exit from LGE PC Portal.
Copy all unzipped *.bmp files before, to your LG N800 device, in the folder "./LGE/LGENavi/UserData/Favorites".
Unplug USB cable and reboot your LG N800 device. Once device booted go to "My Places" in the main menu of your LG N800 device and activate Safety Camera. Set also the distances when system warn you on nearing to the speedcam.
So, when you browse the Map Screen, in a suitable zoom level, you can see the speed camera icons. Meanwhile, the speedcam alerts are automatically enabled, providing an alert when you are in close proximity to a speed camera.
For your information
Remember you can customize freely your download. Get access to the customer control panel and using the customization tool in order to get a customized speedcam database according to your needs. You will need this tool if your device doesn't accept the size of the new update. You can add and remove countries speedcam data to your current setup.
CUSTOMER COMMENTS
Maelys Lefebvre
- 2023-04-01
Greetings, I just wanted to personally thank you for the consideration you have taken in my order
Clara Colin
- 2023-03-29
Working fine, I recommend it
Léa Clement
- 2023-03-29
They updated the speedcams of my area while other sells outdated data. Great for this service.