Alpine Blackbird PMD-B100P
In order to update your GPS device: Alpine Blackbird PMD-B100P with the latest update, follow next instructions.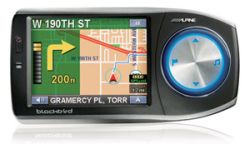 First of all, be sure you got the update file for your Alpine Blackbird PMD-B100P device, downloaded from SpeedcamUpdates.com.
If still haven't got it, you can get it now filling the form you see on this page.
Extract files from the SpeedcamUpdates zip package. If the file you have downloaded is not a ZIP file means the file is already decompressed, and you can continue with the next step of this installation instructions.

For your information
Before using our speedcam files with your Alpine Blackbird PMD-B100P device you must update the firmware to release R4.10.0810 or higher.
Other important thing you have to take in mind is that is necessary that the Alpine Blackbird PMD-B100P device must have at least a register in the Address Book!

Rename the file you downloaded with extension .pmf to SpeedCamera.pmf.
Copy the extracted files into a SD card.
Put the SD card in your Alpine Blackbird PMD-B100P device. Then click "Main Menu -> Edit ->Edit Personal POI" and finally click Update.
CUSTOMER COMMENTS
Maelys Girard
- 2023-09-28
Very updated information.
Noemie Gauthier
- 2023-09-27
Easy installation. Thanks.
Alicia Meunier
- 2023-09-27
Amazing service. Thanksssss!!!