ALK CoPilot Live 8
In order to update your GPS device: ALK CoPilot Live 8 with the latest update, follow next instructions.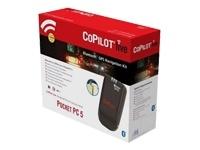 First of all, be sure you got the update file for your ALK CoPilot Live 8 device, downloaded from SpeedcamUpdates.com.
If still haven't got it, you can get it now filling the form you see on this page.
Extract files from the SpeedcamUpdates zip package. If the file you have downloaded is not a ZIP file means the file is already decompressed, and you can continue with the next step of this installation instructions.
Run Copilot application and click in Menu -> "Manage own destinations".
In order to avoid keeping in memory duplicated information, you have to remove all entries except the last one. In this way the category won't be removed. Repeat the procedure deleting and exiting for each entry, until only one remains.
Now, go to Menu -> "Import own destinations".
Using Import Wizard, click in "Continue and Search/All files". Then select csv files, that you extracted before from the zipped file. Select the category "Travel & Transport / speedcam traps" and click "Continue".
With all of the information added, click "File / Data Download". Put the files directly on your mobile phone if it is connected to your PC, or also you can copy the information into the memory card.
Choose the region covered with speedcam information and then click "Finish". Click "Download", then "Finish" two times. Finally you have to enable the category "Travel & Transport and Radar Traps" and that's all.
For your information
Remember you can customize freely your download. Get access to the customer control panel and using the customization tool in order to get a customized speedcam database according to your needs. You will need this tool if your device doesn't accept the size of the new update. You can add and remove countries speedcam data to your current setup.
CUSTOMER COMMENTS
Léna Richard
- 2023-04-02
Elise Gauthier
- 2023-04-01
Amazing service. Thanksssss!!!
Laura Meunier
- 2023-03-30
Only service with mobile data updated. Thank you!!!